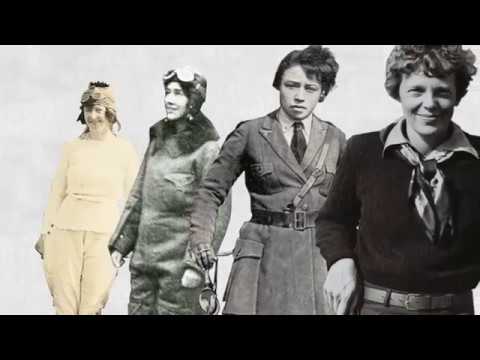 Breaking Barriers: Remarkable Women in Early Aviation
The pioneering early decades of flight were dominated by men, but courageous women also made their mark on aviation's ascent. They broke through barriers and proved that females could excel in the thrilling new field of flight.
Amelia Earhart (1897-1937)
Earhart, the most acclaimed woman aviator, gained worldwide fame for her long-distance flight records in the 1930s before her tragic disappearance over the Pacific. She was the first woman to fly solo across the Atlantic and set numerous speed and distance records. Her celebrity made her an advocate for women in aviation.
Bessie Coleman (1892-1926)
Coleman was the first African American woman pilot and the first to earn an international pilot license. Denied flight school in the U.S. due to racism and sexism, she mastered French to train in Europe. She later performed daring aerial displays over American crowds, specializing in stunts and parachute jumps to raise interest in aviation.
Harriet Quimby (1875-1912)
In 1911 Quimby became the first American woman to earn a pilot's license. The next year, she became the first woman to fly the English Channel solo. A daredevil exhibition pilot, she helped popularize aviation and paved the way for women fliers before her untimely death in a crash at 37.
Katherine Stinson (1891-1977)
A pioneering American aviator, Stinson set altitude records and was the first woman to perform a loop-the-loop maneuver in 1914. She toured extensively as a demonstration pilot to popularize aviation, later establishing a flight school. She flew for over a decade, proving women's competency as pilots.
Jacqueline Cochran (1910-1980)
Considered the most gifted female pilot of her generation, Cochran set more speed and altitude records than any pilot of the era, male or female. She led the Women Airforce Service Pilots (WASPs) during WWII. Her skills and advocacy helped women gain broader roles in aviation.
These courageous women overcame daunting obstacles to open the skies for females and inspire generations of women aviators. Their skills, daring, and perseverance made aviation history.